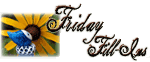 And...here we go!
1. Life is full of challenges along the way and better be ready when it hits you.
2. No matter how hard life knocks you up, you must keep going.
3. My last text message (or IM) ended in these three words: mad at me.
4. Greek food at Cyma is what I'm thinking about for dinner sometime soon.
5. On the 1st day of August I am already thinking about the tuition fee we need to pay for my first born and the first birthday of my second born.
6. Enough rest and a little relaxation make me lively and energetic.
7. And as for the weekend, tonight I'm looking forward to a nice dinner at home, tomorrow my plans include going back to work as usual and Sunday, I want to attend church and unwind!